The Road Tax Rates in Malaysia
Do you know that you can actually self-compute the road tax amount for a given car to see if you can afford its road tax? It is as simple as just adding the progressive rate to its base road tax rate! Before you can do that, you need to be able to derive both the base and progressive rates of the given car!
Example of computation:
Let's look at the example of calculating the road tax for a Proton Perdana. The 2.4L version Proton Perdana has 2,354 CC engine.
Base Rate
Based on the Private Cars in West Malaysia table, it falls between 2,001cc and 2,500cc. With reference to the table below, the base rate is RM380.
Progressive Rate
Take the 2,354 CC and minus it with the 2,001cc in the table below. Anything in excess of 2,001 CC is RM1.00 per CC. As such, total of progressive rate is computed as follows:
= 2,354cc – 2,001cc
= 353cc x RM1 (progressive rate)
= RM353
Total Road Tax Amount
= Base Rate + Total of progressive rates
= RM380 + RM353
= RM733
As simple as it seems, there are comprehensive tables to make reference to for the purpose of calculating the road tax that you are liable to pay upon renewal. Here are the tables to refer to!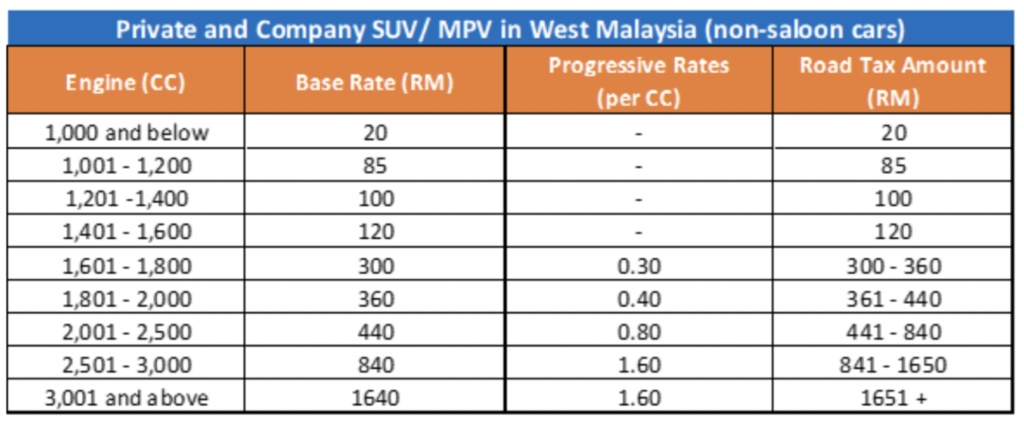 By now you should have noticed that East Malaysia has a lower road tax rate. In case you didn't know, the condition of Sabah and Sarawak's infrastructure and road network are not like the ones in Peninsular. Due to the geographical condition and poor road surface, most people in East Malaysia prefer four-wheel drive vehicles with strong engines to navigate the difficult terrain and these are much more suitable for a day to day commuting compared to those driving on the West of Malaysia.
According to JPJ, road tax rates are cheaper in East Malaysia to compensate for any shortcomings that exist!