We have all come across technical features listed for cars on websites, magazines and newspapers and car showrooms which we may or may not actually understand. Let ezAuto make it ez for you by sharing some basic car terminologies to enable our fellow readers to gain more knowledge about cars!

1. ABS

Anti-Lock Braking system that helps to avoid locking of wheels in case of panic/hard braking. It prevents you from losing control of the car.
2. Automatic Headlamps
These headlamps switch themselves on in the dark and switch off once they sense the required amount of light. Bye-bye, darkness!
3. Climate Control
Worried about getting too hot or too cold? No worries! You can set the temperature that you want to maintain inside the car throughout your journey! No sweat, no shiver!
4. Cruise Control
A system that maintains the steady speed of a car that can be set by the driver. It frees the driver from pressing the accelerator pedal, thus giving a comfortable driving experience.
Caution: Do not use this technology if you are drowsy or distracted!
5. Defogger
The 3-steam-lines signal button that enables the clearing of rain droplets from your car's rear windscreen during rainy days.
6. EBD
Electronic Brake-force Distribution decides the amount of brake force that is applied on the wheels depending on driving speed, road condition, gross weight of a car, etc. that stops your car immediately. EBD is always present along with ABS in a car.
7. EEV
Energy Efficient Vehicle (or known as 'Kenderaan Cekap Tenaga'), a rating granted by JPJ for cars that pass the JPJ EEV test based on carbon emission and fuel consumption level based on the type and weight of a car.
8. Engine Immobiliser
It disables the engine when someone tries to kick-start the engine using unauthorised manner (e.g. not using the unique car key designed for that particular car).
9. ESP
Electronic Stability Program, a safety feature for controlling your car. When your car starts sliding, the car system detects it and brings back control to the car.
10. EV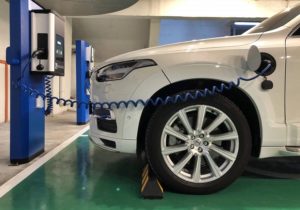 Electric vehicle is an automobile that is propelled by one or more electric motors, using energy stored in rechargeable batteries. No need to queue up to pump petrol during price hikes!
11. Follow me home lamps
These lamps allow you to get home safely in the dark by keeping the head lamps ON for some time even after you have switched off the ignition.
12. Glove Box
The front storage compartment on the dashboard at the front passenger's seat for you to keep whatever you need in the car such as Smart Tags, tissue papers, other junk, etc.
13. ORVM
Outside Rear View Mirrors or more commonly known as side-view mirrors present for the convenience of the driver to see areas behind and at the sides of the car.
14. Puddle Lamps
These little lamps illuminate the ground like an UFO besides and under your car so that you may safely step out of your car in the dark!
15. Rain Sensing Wipers
When it rains, these automatic wipers sense rain drops and automatically wipes the windshield. How convenient!
16. RON
An abbreviation for "Research Octane Number", a form of fuel quality and performance rating.
Tip: To find out the difference between RON95 vs RON97, check out our other article written here!
17. Start-Stop Button
A trendy feature used for starting and stopping the engine of your car in place of the traditional car key twist-and-turn ignition.
18. Steering Mounted Controls
Have those cute buttons all over your steer wheel? Yeah, they control the stereo from the steering itself! You can even dial-receive calls if your stereo supports Bluetooth!
19. SUV
Sport Utility Vehicle that is usually big, rugged machines that are sturdy and fitted with four-wheel drive.
20. Torque
This refers to the amount of 'turning power' a car has. It is a crucial part of generating power from a car's engine, as it represents the load an engine can handle to generate a certain amount of power to rotate the engine on its axis.
How many of these terminologies did you know before reading this article? Share this with your friends to see if they know any better!